For a cheaper, true green web hosting, you pay only $3.96 monthly, your domain name is free for life. Better yet, by choosing green web hosting, you contribute to reducing carbon footprints that harm us and the Earth.
Where To Get Cheaper Green Web Hosting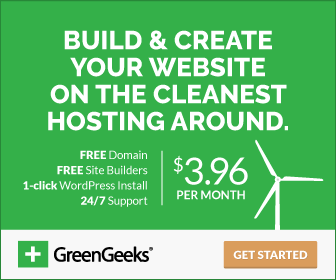 This site, and my other websites, are hosted by GreenGeeks. This is my favorite web host. It's honest, its web hosting plans are affordable, and it is earth-friendly. Its web servers are powered by renewable energy such as wind energy. I am also happy about that my first domain name is free for life.
Features of GreenGeeks Web Hosting Plans
I have compared GreenGeeks web hosting plans with other plans. Beside being enviro-friendly, the following are the reasons why I have chosen GreenGeeks to host my websites.
Your primary domain name is free for life (i.e. as long as you maintain your web hosting plan with GreenGeeks.)
Unlimited domains on one account. Other plans allow only 1, 2, or 3 domains unless you pay more.
Unlimited web space and data transfer. Other plans offer wider web space and data transfer for additional fee.
Free domain name registration or transfer.
Site building tools.
Free website migration.
Secure IMAP/POP3 e-mail accounts.
Free marketing and SEO tools
24/7 US-based support
99.9% service uptime
30-day money back guarantee
Visit GreenGeeks to learn more about their web hosting plans and cheaper subscription prices.
GreenGeeks's web hosting servers are 300% powered by wind energy. By using green web host, you give our Earth cleaner air and zero-carbon footprint. GreenGeeks green web servers are located in US, Canada, and Europe.
Web Hosting Regular Promo
When you sign up for a 3-year web hosting plan, your monthly subscription starts at US$3.96 per month for one year. This special discounted price is good for the first year. For the succeeding years, your monthly subscription reverts to its regular discounted price of $4.96 monthly. You can avail yourself of this discounted price if you opted for the 3-year subscription plan. You are billed every three years for this particular plan. That means, every three years, you pay the total amount of US$166.56. That's already a good deal for a 3-year web hosting plan.
If you opted for the year-to-year annual subscription (instead of every three years), the web hosting price is $5.96 a month. You are billed annually.
Note. The web hosting promotional prices mentioned above are subject to change without prior notice. Visit GreenGeeks for the latest discounted prices.
Web Hosting Explained
Why Do You Need A Web Host
For those who are not familiar with what a web host is and what it does, a web host is what puts your website on the World Wide Web. Though there are organizations, such as WordPress and Google, that provide free web hosting (with limited features), a web host subscription is typically paid. If you want to be in full control of your website, opt for a paid web hosting.
What Is Green Web Hosting
Green web hosting uses renewable energy to power the web servers. Renewable energy may be solar, wind, rain, tides, waves, or geothermal. GreenGeeks, which hosts this website, uses 300% wind energy to power their web servers. By choosing green web hosting, you contribute to the reduction of carbon footprints that harm our planet earth.
Carbon footprint is the amount of carbon dioxide and other carbon compounds emitted by vehicles, electrical appliances and equipment, and other human activities, due to the consumption of fossil fuels. Deforestation and burning of oil, coal and gas are the primary sources of carbon dioxide emissions. Climate change is the ultimate effect of large carbon footprints.
The best I could, I try to be enviro-friendly. For that reason, I personally recommend GreenGeeks as your green web host as well.
---
GreenGeeks's Web Hosting Promos
From time to time, GreenGeeks would give much lower discounted prices on special occasions, holidays, and events. Here are some that you can look forward to.
New Year Flash Sale
Note. This promo has ended.
As a way of thanking the year 2016, GreenGeeks offered for a very limited time their web hosting plans at only $2.95 a month for 3 years. The flash sale was good until January 1 only.
Welcome 2017 with a bang! and big savings in your bank account!
This New Year, my favorite earth-friendly web host offers web hosting subscription at a lower monthly subscription fee — only $2.95 a month good for three years. After this 3-year period, should you renew your subscription, price goes back to its regular rate, which is still at a low affordable monthly price of $4.95 a month. I can say that this is truly cheaper green web hosting compared to other web hosts. Some web hosting companies say they use green energy for their servers, but actually they do not.
$2.95 a month for three years is already a great deal. That's only $35.40 a year. This discounted price is available only until 11:59 AM New Year's Day (eastern time). After this time, the monthly subscription goes back to its regular price. So, hurry! Avail yourself of this discount.
First Day of Autumn Sale
Note. This promo has ended.
Last Autumn 2016, GreenGeeks's web hosting plan was slashed by 50%. The sale was offered for a day only.